MACH-TECH – Industry Days 2019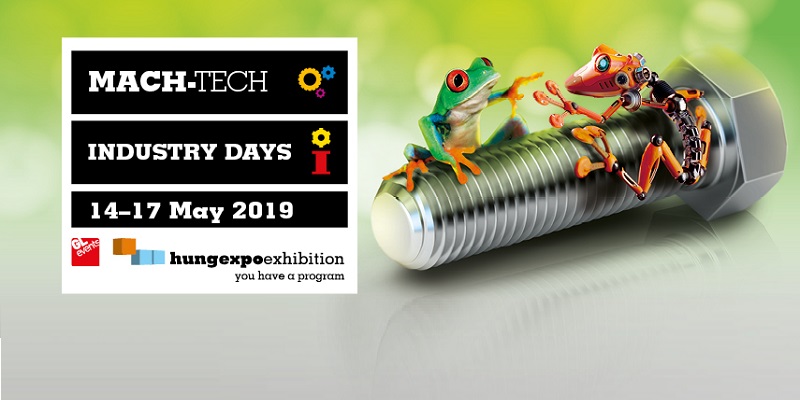 MACH-TECH International Trade Exhibition for Machine Manufacturing and Welding Technology and INDUSTRY DAYS International Industrial Trade Exhibition at the same place ad the same time, Hungary's most significant industrial business event.
The event convenes and presents practically all branches of industry, professional novelties, cost-efficient industrial solutions and the latest "conquests" of Industry 4.0.
Take a visit at the unique event!
20 countries – more than 550 companies – 4 pavilions
The latest industrial trends, trade novelties, cost-efficient industrial solutions, the latest "conquests" of Industry 4.0 and more than 130 industrial branches at the same place and the same time.
List of exhibitors: https://hungexpo.hu/en/events/industry-days/catalogue/2019-2/
Exhibitors of the INDUSTRY DAYS – MACH-TECH 2019 had the opportunity again to enter the product competition for GRAND AWARD in the categories of best products and most outstanding innovations that falls within one of the product groups of INDUSTRY DAYS – MACH-TECH 2019 is sold in Hungary.
Tender documents were judged by a professional jury. Grand prix will be delivered to: EPL-TECH Műszaki és Kereskedelmi Kft., LINDE Gáz Magyarország Zrt., M+E Szerszámgép Kereskedelmi Kft., Optimum Hungária Kft., TRUMPF Hungary Kft., Varinex Informatikai Zrt., Wiha Werkzeuge GmbH.
Other awarded companies: https://hungexpo.hu/en/events/industry-days/for-exhibitors/grand-prix/
Besides the offer and presentations of exhibitors, high-level trade programs accompany the event:
Besides welding, robots can drive screws and pack palettes, too! KUKA Hungária Kft, the expert of orange robots presents the latest generation of robotic roller coasters. It is an automated and safe travel simulation with extraordinary movement combinations and maximum travel experience.
Shifting its focus from individual sheet metal working machines to Industry 4.0 this year, TRUMPF Hungary Kft presents its TruConnect Showcase application
Industry 4.0 conference (organised together with the Ministry for Innovation and Technology
Business Forum (organised by the Embassy of Cuba and Czech-Hungarian Chamber of Commerce)
Conferences, workshops organised by professional partners
Safetynet Budapest – sub-exhibition for safe and healthy surroundings at home and at workplace
Linde forklift competition (16 May 2019)
We would be honored by your presence
at HUNGEXPO Budapest Fair Center between 14-17 May 2019.
Information:
Date: 14-17 May 2019
Venue: HUNGEXPO Budapest Fair Center, Pavilions A, D, F, G
Entrance, visitors' registration: Main Gate, Entrance Hall I.; Gate III, Pavilion F
Opening hours:
Tuesday: 9–17 h
Wednesday-Thursday: 10-17 h
Friday: 10-16 h
Cashless payment:
From 1st January 2019, HUNGEXPO has become completely cash-free, visitors can pay with a touch-to-pay bank card or HelloPay card in lieu of cash for parking and at dining areas at the location.
More information and detailed programs: www.iparnapjai.hu/en
VISIT HUNGARY'S MOST IMPORTANT INDUSTRIAL BUSIESS EVENT!