HUNGEXPO Revitalization and Expansion Program has Commenced: New Congress Centre to Open in 2021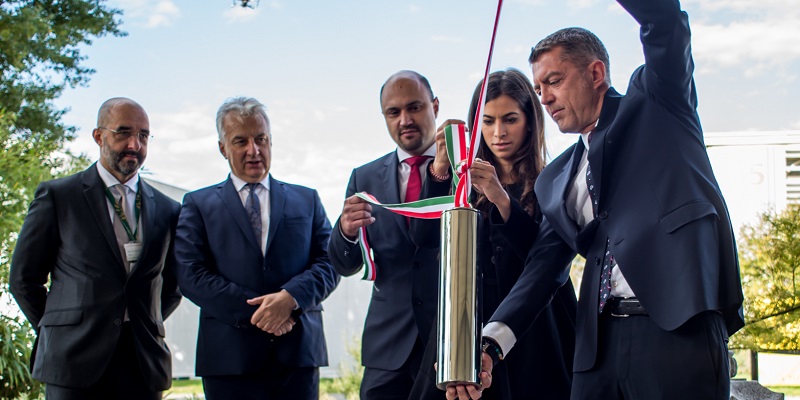 The construction works at HUNGEXPO has now symbolically kickstarted with the laying ceremony of the foundation stone of the new congress centre. The city's exhibition and multifunctional event complex is getting a €170m refurbishment project. As part of the expansion, two new exhibition halls, a new reception building, and a congress center will be built.
The foundation stone was laid by Deputy Mayor Alexandra Szalay-Bobrovniczky, Gábor Ganczer, CEO of Hungexpo, and Balázs Denhoffer, Managing Director of Expo Park Ltd. on behalf of the state.
Budapest has already been in focus of conference's tourism however duo to the rapid growth of the industry the revitalization of HUNGEXPO became inevitable.
"This is the most important day of our company since its foundation, 50 years ago." – said Gábor Ganczer, CEO of Hungexpo, at the celebration – "From 2021 Budapest can benefit and play the well-deserved role in the field of large and mega size events, which was not possible before due to the lack of a proper size congress center. With the current development, the capital will have the opportunity to host basically any size of international congress, conference or exhibition" the CEO added.

The project is including the expansion of the event space by adding two new halls. Hall D1 will be 5,700sqm and Hall D2 7,300sqm. All existing pavilions will also receive a refurbishment, with new flooring, and a facelift on the exterior aspect. All eight of the exhibition halls, ranging from 5,000-20,000sqm and totalling 60,000sqm of space, will be interconnected with a covered passageway providing exhibition options under one roof. In addition, a brand-new congress center will be constructed. The three-level congress centre includes a 2,000pax auditorium and two dozen smaller meeting rooms, plus a 2,300sqm rooftop terrace.
In addition, this building will be equipped with the most modern recessed Gala seating system, which allows to adapt the venue to all kind of needs in a short period of time. It will also have the state-of-art audio-visual system.
The project is due to be completed by mid-2021. Hungexpo runs smoothly during the constructions organising exhibitions, conferences galas and sports events. The first major international event of the renovated and upgraded Hungexpo Budapest Convention and Exhibition Center will be the International Eucharistic Congress, scheduled for September 2020, which will welcome 15,000 guests. Furthermore, in 2021, Hungexpo Budapest will host the World Hunting and Nature Expo.