Case Study: World Table Tennis Championships Budapest 2019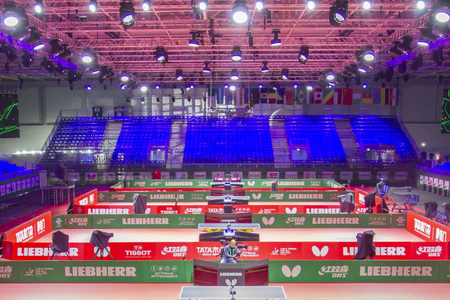 Case Study: World Table Tennis Championships Budapest 2019
Date: 21-28 April 2019
Client: International Table Tennis Federation
Organisers: ITTF- Hungarian Table Tennis Association
Participants: 1.500 accredited participants, 360media, 25.500 audience
Venue: Hall G – Main competition area, Hall A, Hall F, Hall D, Passage
The International Table Tennis Federation granted Hungary to host and organise the 2019 World Table Tennis Championships in Budapest. The site selection process started in 2017. The Hungarian Table Tennis Association was in charge of the suitable venue search.
The championship's space requirements were to accommodate 36 practicing tables, 24 tables for the qualifications and 8 tables for the finals along with 2.000pax+4.800pax grandstand and the necessary spaces for the 400+ media and the TV broadcast. There were 1.500 accredited competitors and related staff, who required VIP catering services during the event and an expected 25.000 audience during the 8 days championships
HUNGEXPO's Hall A on 20.000sqm served for the runner up competitions and the practicing areas while Hall G was the main competition area where 4 tables for the finals were set-up with a viewer's arena of 4.800 capacity including the broadcasting station for 400 and VIP section for 200 as well. The VIP rooms were also set-up in this hall on 500sqm. In Hall F the media centre for 400 and some practicing areas were set up. Hall D served as the contestant food service area, while in the rest of the hall the fan zone was setup where viewers could try their table tennis skills as well as buy various sports equipment, sports clothing and memorabilia.
In the competition areas special sports flooring and lighting requirements were prescribed by ITTF directives. To facilitate the live TV broadcast and the special 2.000 lux lights 10km electric cables and 1450 lamps were installed in the halls. The halls needed to get total blackout too.
Careful planning was a crucial part of the successful organisation as during the one week set up the electricity, AV, flooring, grandstand, media and broadcast places were to be built up in a layered manner by several different in-house crews and outsourced suppliers coordinated by HUNGEXPO's project management team.
Security and badge control was another complex issue to manage; the event was divided into nine different access zones (Field of play, Competition Preparation, Tournament Control Desk, General Area, Media, Studios, Commentary Positions, Offices and Meeting Rooms, VIP, VVIP, Accredited seats) and strict security control was set up at each zone entrances to secure that only accredited persons were permitted into the zones.
A dedicated project staff on behalf of HUNGEXPO was supporting the event; daily 230-400 experts and assistances were working during the 20 days including Easter weekend.
ITTF CEO Steve Dainton on WTTC 2019:
"The ITTF, together with the Hungarian Table Tennis Association, showed the world that great things can be achieved with a professional operation."
"The 2019 World Championships is also a wonderful success, expected to be the most followed and reported table tennis event in history. The global media coverage will be huge simply due to the spread of success at the tournament."
"There are too many persons to thank – Firstly thank you Budapest and the Hungary Table Tennis Association for an amazing Job. All ITTF officials who work tirelessly as volunteers, and everyone involved in the event whom I hope will take some rest after assisting to deliver an amazing, jam packed event."
WTTC 2019 in figures:
Enlio sports flooring 9.100sqm
Tennis tables: 64pcs
Media stations: 400
Accredited media: 361
Accredited competitors, staff: 1.500
VIP and VVIP areas: 460sqm rooms, +VIP parking,
Catering: 60.000 meals served in 11 days,
Areas in use: 58.000sqm
Hungexpo project staff: 230-406/day
Addl. staff by organisers: 300-250/day
Total viewers audience: 25.500
Set-up days: 7
Event days: 11
Breakdown days: 2
Lamps, lights: 1450pcs
Led walls: 240sqm
Broadcast cables, used: 6.000m