Programs
You, your family and friends are welcome to FeHoVa, the largest and most popular meeting of hunters, fishermen and nature enthusiasts of the Carpathian Basin!
SIMULTANEOUS EVENTS: IX. FEHOVA-MEOESZ International Dog Show
Pavilions B and E
Fishing programs



Pavilion D
Energofish tests its feeding boat in a pool specifically built for this purpose from 11.00 to 15.00 each day (Feeding boat test pond)
Casting field
Lure fishing pool – bait leading demonstrations, useful spinning tips and tricks
Fishing simulator
MOHOSZ Angling School for children
At the MOHOSZ stand, you can buy an annual fishing ticket and/or take the national fishing exam
Lectures and presentations by acclaimed foreign and Hungarian sport fishermen
Hunting programs



Pavilion A
FEHOVA TAXIDERMY SHOW WITH THE SUPPORT OF MAGYAR VADÁSZLAP
TROPHY EXHIBITIONS
booth 208-210
Nadler exhibition – a selection of the best Hungarian large game trophies from the 2020-2021 hunting season
The trophies dearest to Dr. Gábor PÁLOS
Hungarian materials presented on the international scene from 1890 onwards
MURAY PAINTING MEMORIAL EXHIBITION – in 2021, the artist Róbert Muray would have been 90 years old
"Moments from the past of hunting – 140 years of the Hungarian National Hunting Association" photo exhibition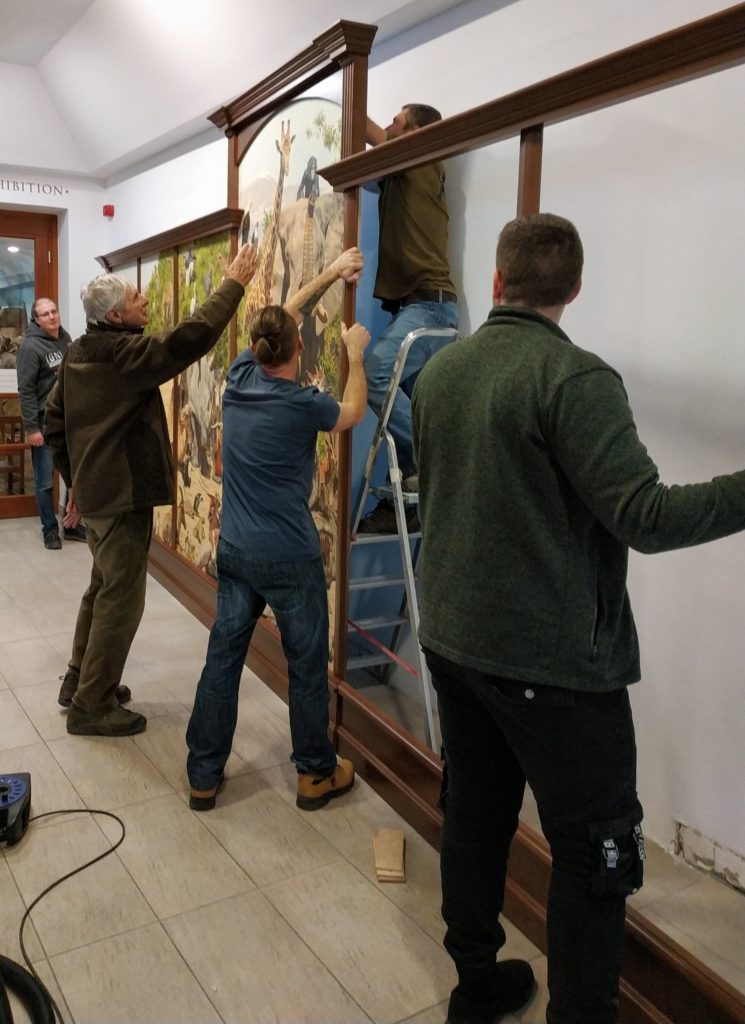 Brian Jarvi's monumental work "African Menagerie" will be presented. The original painting was purchased by one of America's largest natural history museums for $ 27 million. The artist made only 20 reproductions, and this is the second one of them.
Click on the picture to see it in bigger size!
Beside the novelties, we welcome children and adults alike with our traditional programs:
Dedication on the stands of Hunor webmagazin, Magyar Vadászlap Magazine and Világjáró Vadászok
Falconry and other small animal shows – Falconry is a part of the world's spiritual heritage: spectacular falconry shows, bird flights, presentations with video projections and a show with birds-of-prey and other small animals, which you can take photos with. The stand also offers you an insight (with films and lectures) into the protection of birds-of-prey, falconry as well as the veterinary aspects of keeping birds and other pets.
Hunting Horn Festival on the hunting stage on Saturday
VIII. Youth Hunting Horn Solo Competition on the hunting stage on Saturday
X. FeHoVa Cup International Troating Competition on the hunting stage on Saturday
Erdeiprogramok.hu "game corner" for kids with forestry colouring, crossword puzzles, "graffiti wall" and forest quiz at the Forest-Meadow stand
Demonstration of correct weapons storage, general advice on weapons purchase, usage and storage at the stand of Budapest Police Headquarters