The Travel exhibition was successful
March 03rd, 2015
The 38th Travel exhibition closed successfully in HUNGEXPO Fair Center. Almost 40. 000 guests visited the biggest travel fair of Hungary between 26th of February and 1st of March. As usually Saturday was the busiest day, more than 12.000 visitors came to visit the Fair Center.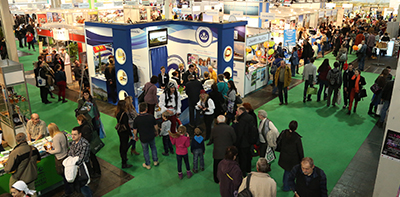 The Hungarian turistic offer was introduced in new concept. It worked out well because many people visited the 70 exhibitors of Hungary's 7 region.
According to the exhibitors the number of the interested visitors increased, they were inquired seriously for programs or services and left with concrete offer.
Although the datas are under processing, the exhibition shows the tourism trends accurately: most visitors looked for inland offers. (According to the datas of the Central Statistics Office in 2014 the number of the room nights at the domestic accomodation rised with 5,4 percent, the turnover of the foreign guest went up with 2,7, the domestic tourism elated with 8,3 percent.) The foreign exhibitors were satisfied with the exhibiton as well. Most of them said: they would come back, but on bigger area in the next year. Rafay János, director of the Travel exhibition said on the last day: the Travel 2015 was good fundament for the future development.
Big interest followed the professional programs. On the first day was the Travel Forum professional conference in the pavilon 25, according to the participants the programs were useful and promising. The most popular presentation was the Trend report – tourism of the world, in focus with gastro tourism by Somogyi Zoltán, Executiv Director of UNWTO and the Possibilities of the turism development by Dr. Ruszinkó Ádám, Deputy State Secretary for Tourism.
Our two guests of honour Székesfehérvár and Romania were attractive. The Székesfehérvár stand was decorative, and individual. On the Romanian stand the visitors could get overall picture about the travel possibilities and the spectacles of the country.
The biggest attraction of the exhibition was the huge Hungary map built with 1.000.000 LEGO® bricks. There has been never made a map like this in Hungary. 10 emblematic buildings and symbols of Hungary appeared on the construction in 3D reality.
In 2015 something new was waiting for everyone who loves cars. On the Teszt&Go motorist program 11 car brands appered. Visitors could test these different car models. It was a perfect opportunity to collect information or test several cars before buying it.
Simultaneous events were in the HUNGEXPO the Africa Expo and the Port.hu Bringaexpo. Both was really successful. In the A pavilon on stand 101 fifteen African countries and twentyfive exhibitors debuted on 570 square.
There were 70 exhibitors and 120 bicycle brands in the G pavilion on almost 10 000 sqm. The visitors could see and test the new models of 2015.
Thanks to the quiz game of Travel exhibiton on 10th of March a lucky visitor won a dream trip to the wonderful island of Mauritius.