Sirha Budapest – an international trade show with domestic flavours
May 08th, 2016
Sirha Budapest, a member of the Sirha international network will open its gates to trade visitors on 9 May with more than 350 exhibitors and 20,000 expected trade visitors at the trade show. The Sirha will be a real business forum for the food, baking and confectionery, hotel and hospitality and packaging industries.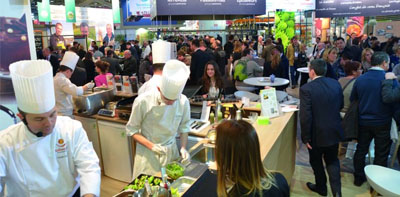 Comprehensive offering
More than 350 exhibitors will represent 19 countries in the Fair Center's biggest pavilion, 20,000 sqm Pavilion 'A'.
The proportion of exhibitors broken down by theme:
Food products – 20 %
Drinks – 3 %
Baking industry, confectionery – 11 %
Food industry machinery –7 %
Kitchen technology – 18 %
Café and bar – 6 %
Furniture, textile, tableware, hotel industry – 13 %
Technology, hygiene, services – 12 %
BUDATRANSPACK, packaging, logistics – 10 %
20,000 trade visitors are expected
Sirha Budapest is a one-of-a-kind event: we offer business solutions to the purchasers of large retail chains, hotel and restaurant owners and buyers, chefs, company executives, bakers and confectioners, purchasing directors in public sector catering, packaging industry and logistics experts.
World-class programme
The European Selection Bocuse d'Or is the major event at Sirha Budapest. Many events will also take place during the three days including a Dessert Competition and the Hungarian Barista Championship, the World Cuisine Summit conference, the Creative Bakery Forum, the European Enterprise Network's B2B businessmen meeting and several other conferences will also be organised.
Hungarian Tourism Plc's Agricultural Marketing Directorate is the trade partner of the show, METRO Hungary is the special trade partner and Trade magazin is the special media partner.
Only trade visitors are allowed to enter Sirha Budapest. Even they need to register in advance and in order to keep the event strictly on a business track, the organisers reserve the right to filter registered participants.
HUNGARY'S FOOD AND HOSPITALITY INDUSTRY
There are more than 19,000 grocery stores and 3,400 confectioneries in Hungary, and more than 1,500 hypermarkets, supermarkets and discount supermarkets.
398 Hungarian restaurants were featured in the Gault&Millau restaurant guide in 2015.
Both the Hungarian government and the municipality of Budapest support the organisation of the Bocuse d'Or European Selection and the promotion of Hungarian gastronomy.
European Selection Bocuse d'Or – 10-11 May
The European Selection Bocuse d'Or the world renowned gastronomy competition will be part of Sirha Budapest's programme, taking place on 10-11 May. Europe's best chefs will be competing in a spectacular culinary show, supervised by Zoltán Hamvas, president of the Hungarian Bocuse d'Or Academy and international are expected cover the event. Tamás Széll will represent Hungary in the competition. On Wednesday 11th May, chefs from 20 European countries will be battling in the prestigious competition and 11 of them will qualify for the Bocuse d'Or Grand Final, which is to be held from 21 to 25 January in 2017. Cooking ingredients used in the European final are Hungarian products: sterlet and sterlet caviar, venison haunch and loin (from red deer calf).
World Cuisine Summit – 9 May, 13.00 – 15.00
Conference area
Discussion about the latest trends, with the participation of influential Hungarian figures of the trade. Sirha expert Frédéric Loeb will be leading a roundtable discussion, where the most important future trends in Eastern Europe and other regions of the world will be introduced. A debate will follow the conference, with the participation of the sector's most important actors.
Mr. Ákos NIKLAI – President of the Hungarian Hotel&Restaurant Association
Mr. Zoltan ZSIDAI "Roy" – Managing director and owner of Zsidai Group, member of the Hungarian Bocuse d'Or Academy
Mr. Viktor SEGAL – Famous Hungarian chef and gastronomy consultant, member of the Hungarian Bocuse d'Or Academy
Mr. János KIRÁLY – CEO of Chef Market, the Bronze degree sponsor of Sirha Budapest
Sirha Budapest Dessert Competition – 9 May, 10.00 – 19.00
Contest area
This year the Dessert Competition will take place for the second time. Created by Zoltán Kolonics, one of Hungary's most acknowledged pastry chefs came up with idea of organising this event. The competition's goal is to become an opportunity for up-and-coming talents to show their skills and introduce their new ideas. Competitors will have to create desserts in three categories: fruit cake, chocolate plate dessert and artistic confectionery. Four teams will be competing:
Anna Nagy (Salon Restaurant) & Gréta Berta (Kempinski Hotel Corvinus);
Beáta Andrási (Buddha-Bar Hotel) & Boglárka Kovács (Hotel du Vin-Cheltenham, UK);
Anna Maczák (Costes Downtown Restaurant) & Melinda Nagy (Kiosk Budapest);
Péter Korponai (Desszert.Neked) & Róbert Mártha (Costes).
Main sponsors of the competition: Coninvest Trade and Services Ltd and Goodwill National Trading Ltd, representing the Cacao Barry, Capfruit and SelmiChocolateMachinery brands.
Hungarian Barista Championship – 10 May, 13.00 – 18.00 and 11 May, 10.00 – 18.00
Contest area
Hungary's coffee culture has been making great progress in the last few years and Hungarian baristas have also achieved great successes abroad. In 2016 the final of the Hungarian Barista Championship – in two categories – will be part of SIRHA Budapest's programme. The winners are going to represent Hungary at this year's world championship. In addition to the competition there will also be various barista shows and presentations, with the participation of former champions and world champions.
European Enterprise Network B2B businessmen and hosted buyer meeting – 10 May, 12.00 – 18.00
Conference area
Enterprise Europe Network will invite participants from more than 60 countries to their international businessmen meeting, as part of the Sirha Budapest 2016 trade fair's programme. The meeting will give everyone the opportunity to meet key players from the industry in person, with whom they can enter into business partnerships. Registration and participation are free.
Register for the program here: http://sirha2016.talkb2b.net/
Innovation Competition
Within the framework of the trade exhibition Hungexpo is going to organise their international Innovation Competition. Exhibitors can register for this with innovative products or services put on the market between 1 May 2014 and 31 March 2016. Entries will be evaluated by a jury of experts. Prizes will be presented to the winners at the opening ceremony of the trade show. Those who can't participate in the opening ceremony will get the chance to learn about the entries from informative posters introducing the products or services throughout the three days of the trade fair.
Competition categories:
- food and drink,
- bakery and confectionery products,
- technologies,
- hotel industry products, furniture, textiles, decoration, tableware,
- packaging industry, logistics.
Creative Bakery Forum – 10 May, 10.00 – 18.00
Gastro forum
A growing number of bars, restaurants and hotels find it important to serve a wide range of high-quality baked goods, made from the best ingredients. At the Creative Bakery Forum Hungary's key baking industry players and the bakers of restaurants will introduce themselves, together with innovative bakeries and the representatives of suppliers. A few titles from the programme: The age of new-generation traditional bakeries; Traditional doughs with creative new flavours; Modern baker training: How to do it?; Yes, it is expensive! Is it worth it?
Conferences – 9-11 May
Conference area
Several conferences will also be held by trade associations. On 9 May the Guild of Hungarian Restaurateurs (MVI) will welcome participants to their conference, where there will be roundtable discussions about many topics, such as the current trends in gastronomy, managerial approaches, how restaurants can profit from winning a Michelin star and about how to compile a good menu card.
The National Association of Catering Executives (ÉLOSZ) will organise their Public Sector Catering Day on 11 May – the conference will last from 10.00 until 17.00.
All conferences will take place at the trade show's conference stage.
More information about conferences: www.sirha-budapest.com
Sirha Budapest 2016, facts & figures
350 exhibitors and brands – 4 sectors of trade
19 countries
20 000 expected professional visitors
1 international competition – European Selection Bocuse d'Or
more than 10 professional competitions and conferences
Practical information
Entry strictly restricted to professionals.
Sirha Budapest
HUNGEXPO
1101, Budapest, Albertirsai str. 10. Hungary
Dates and opening hours
9 May, Monday: 10 am to 7 pm
10-11 May, Tuesday and Wednesday: 10 am to 6 pm