Motorboat to the SZIGET Festival!
August 06th, 2015
Of course you can go to the SZIGET Festival by car or by taxi...The HÉV stops at Filatorigát from where you can slowly edge your way in a massive crowd to the entrance... But why would you do this, when motorboats awaits you in the Silverline dock at Batthyány square? Get to the Sziget Festival in style, quickly and cozily this year - thanks to the Budapest Boat Show!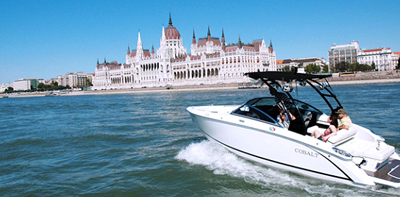 The SZIGET VIP Boat ticket is 4000 HUF. The easiest way to book, is to go to http://boatshow.hu website, but you can also buy tickets on the spot! In addition, you get a gift voucher with your ticket, which ensure free entry to the greatest Hungarian boat exhibition, the BUDAPEST BOAT SHOW 2016. As an extra, another gift voucher is also yours, which you can redeem at Wiking Yacht Club for a boat trip to Szentendre in this year. A glass of champagne is complimentary.
The SZIGET VIP boat runs every day from 5pm till 9pm from the Silverline dock at Batthyany square during SZIGET Festival - every half an hour, or when a boat is filled with passangers. The boat takes you directly to the entrance of SZIGET Festival, so you don't need to walk there. And to top it off, you can buy your SZIGET entry ticket on the spot, if you didn't do it before.
Be the one, who arrives the most stylish way to the SZIGET Festival, by the SZIGET VIP boat!
If you need a quotation or you want to book the boat, please call the following number: +36 20 4667929
Online ticket purchase: http://boatshow.hu