INDUSTRY DAYS will be hosted from 24-27 May, 2016 at the HUNGEXPO Budapest Fair Center
February 03rd, 2016
Make use of our discounted application offer! The most comprehensive industrial professional fair returns in 2016, with the goal of convening and presenting practically all industrial branches in order to provide exhibitors and visitors with a first-hand account of professional trends as well as for participants to make use of the synergies between the various industries.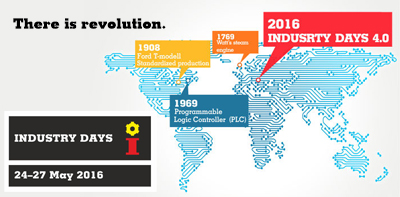 At the event in 2016, our exhibitors can present the opportunities offered by INDUSTRY 4.0, the leading technological trend of the current day and age, with special emphasis on the developmental trends inherent in automation and industrial electronics. The concept is based on intelligent machines communicating with one another (M2M), self-adjusting manufacturing processes and highly effective mass production.
Come and present your own interconnectible systems and "smart solutions" or the foundations (machines, devices, equipment and services), without which the complex manufacturing process could not be realized!
Planned events which accompany the professional fair:
Apart from the broad range of exhibitors, the fair offers high-quality professional events and conferences.
The event's highlighted theme will be bolstered by the Fraunhofer – SZTAKI project center lecture series and workshop based on the theme of INDUSTRY 4.0. The EMOSZ is hosting a 2-day conference as part of INDUSTRY DAYS, which includes the highlighted subjects of the CE markings of machines, and the rules of distribution and contact safety of electric energy.
The professional fair will be further supported by the German-Hungarian Chamber of Commerce and Industry, the MAJOSZ supplier forum, as well as 4 quality lectures from the IFKA Industrial Development Public Benefit Nonprofit Ltd.
We are announcing a discounted registration deadline for our exhibitors:
Exhibitors applying before 15 February, 2016 can reserve their places at a more than 10% discount!
Should you have any questions, feel free to contact us at iparnapjai@hungexpo.hu