INDUSTRY DAYS, MACH-TECH - Where man and machine meet
May 12th, 2015
In mid-May, 2015 INDUSTRY DAYS, MACH-TECH hosts world brands, multinational corporations, and small and medium-sized enterprises offer their novelties for visitors, engineers and experts between 12-15 May 2015 at the HUNGEXPO Budapest Fair Center. Practically all branches of the industry are present at the exhibition and the companies give a comprehensive overview of the various professional fields, providing as detailed information as possible in order to deal with the professional tasks of visitors while presenting the trends of the related professions.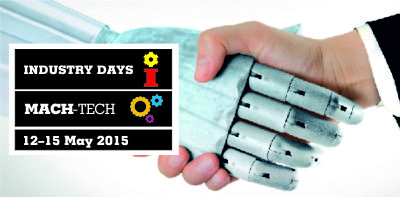 This year 19 countries show the industrial activity, more than ever. The number of the exhibitors increased: more than 380 firms registered (111 foreign companies) and 40 percent of the exhibitors arrive with bigger stands as in previous years. Some countries - including Taiwan, Germany and Austria - signed community stand, companies show their technology with support of their country. You can read the online catalogue on the next link: http://iparnapjai.hu/en/online-catalogue
The INDUSTRY DAYS, MACH-TECH exhibition will be opened by Mr. Sándor CZOMBA State-secretary for Labour market and Training Ministry for National Economy on 12th of May at 11 a.m..
Thanks to the professional partners of Hungexpo Zrt., above and beyond the wide range of suppliers, experts can choose from a wealth of lectures and conferences to attend. As if that wasn't enough, visitors can also see the wall of the GRAND PRIX award-winning products, the presentations at the Forum Stage, the exhibitor innovation presentations and the "Techtogether – GTE - MACH-TECH" – competition for university and college students (on Friday).
APPLICATION ZONE
Application Zone returns for yet another year, with the heading "Man and machine. Past, present… and future" – an event full of surprises for inquiring minds interested in technical-engineering solutions! The practical demonstrations based on a new concept include (amongst other things) a tablet displaying a virtual 3D image, a biometric working hours registration system, CNC education software (with 3D simulation), unique robot programming and a metal 3D printer. You can find more information here: http://iparnapjai.hu/en/application-zone
In 2015 the INDUSTRY DAYS and MACH-TECH GRAND PRIX was organized again, and numerous applications arrived for the the Grand Prix. The winners were carefully selected by a professional jury. The Grand Prix Awards will be given to the winners after the Official Opening Ceremony.
INDUSTRY DAYS, MACH-TECH 2015 Grand Prix winners:
Flexman Robotics Kft.
Froweld Kft.
Linde Gáz Magyarország Ltd.
Pure Air Kft.
Weidmüller Kereskedelmi Kft.
Werth Magyarország Kft.
Special Award winner:
Certificate of Appreciation:
CNCEDU Kft.
Intertechnika Kft.
Learn Virtual Kft.
Linde Gáz Magyarország Zrt.
Norinsol Kft.
Sheet Metál Technológia Kft.
The exhibition's main partner is: ISCAR Hungary Kft.
Professional partners:
Scientific Society of Mechanical Engineering (GTE)
Hungarian Association of Welding Technology and Material Testing (MHtE)
Media partners:
Autopro.hu
BB-Press
CNC Média
Detektor Plusz
ElektroInstallatuer
Elektronet
Gyártástrend
Index.hu
Ingatlanevkonyv.hu
InfoRádió
Magyar Elektronika
Műszaki Kiadványok
Műszaki Magazin
Műszeroldal.hu
Plantautomation.com
Raktaram.hu
Steel-technology.com
Supply Chain Monitor
Techmonitor
Technika Műszaki Szemle
Transpack
ZIP magazin
General information
Opening hours: Every day from 10am. until 5pm.
Venue: HUNGEXPO Budapest Fair Center (H-1101 Budapest Albertirsai út 10), pavilion A and G
Entrance: Entrance Halls​ I. and III.
Parking: P5 and P3 inner parking places
Registration: Visitors with preliminary online registration are provided free access to the event.
For further information: http://iparnapjai.hu/en