Industry Days at Hungexpo
May 26th, 2014
The exhibitors of this year's Industry Days look forward to a positive view on the future, as well as professional and business success, since the domestic economy figures and market analysts confirm there's a reason to be optimistic. The figures of Hungary's greatest industry fair are also on the rise. The number of exhibitors has increased by 15% compared to the previous exhibition, at the business forum of industry trends shaping the future.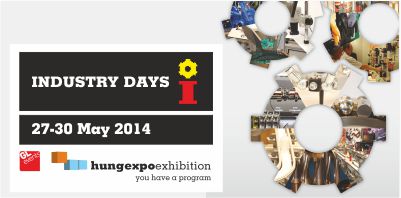 From 27-30 May, HUNGEXPO will be hosting the INDUSTRY DAYS, the greatest domestic industry fair with over 270 exhibitors from 12 countries.
The recent years have shown that those who temper their optimism with perseverance can hope to take the lead. The competition has also brought a number of new suppliers to the group of market players. Some fields are displaying a rather impressive performance. For example, the automotive industry has become a key industry, with new changes emerging day after day, and the Hungarian car manufacturing industry is a part of this development. Innovation is the driving force of this development. This success can be measured in increasing effectiveness, limiting the manufacturing - reconfiguration period, the rapid introduction of new devices and developing new comprehensive solutions.
The key words of the trade fair are: innovation, communication, business. With its accompanying events and exhibitor booths, INDUSTRY DAYS is upholding the model and practices of modern European-standard trade fairs. The most comprehensive overview of the branch is provided by one of the HUNGEXPO's oldest, yet continuously and consciously developed group of exhibitions.
As Csaba Siklósi, commercial director of HUNGEXPO, put it: the companies with vested interests in our region - suppliers and clients alike - now find their way to each other in Budapest. The composition and magnitude of the companies participating in the Industry Days clearly show the significance of the event, and the success of the new concept behind the hosting of the exhibition. The key to this is that within the framework of the event, a number of different interrelated fields present the possible points of intersection, professional correlations and possible nodes of business in a coherent manner at the same place and time.
This year, INDUSTRY DAYS will present eight fields of expertise, with particular emphasis on IndustriAtomation, Energexpo, Fluidtech, Subcon, Mach&Weld, Chemtech, Secutech-Védtech and Logexpo.
Apart from the various products and services, the four-day event features a number of highlighted accompanying events. The engineer society, industry innovation professionals, manufacturers and distributors can choose from a rich selection of conference events. Over fifty different presentations will take place over the course of four days at the HUNGEXPO Budapest Fair Center.