Bocuse d'Or Europe International Press Conference
April 25th, 2016
The world of gastronomy is watching Budapest. The international press conference of Bocuse d'Or Europe took place at the Vigado on the 22th April, 2016.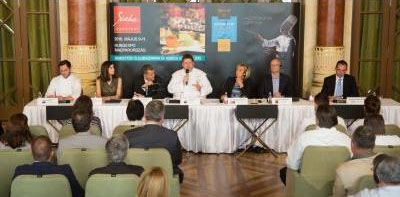 Thanks to the outstanding teamwork within the professional community, Budapest is preparing for the Bocuse d'Or European Selection, the competition of world's top chefs, an event that promises to further boost the development of Hungarian gastronomy. The Bocuse d'Or European Selection will also have a number of exciting features that neither the audience nor participants will ever have seen before in the history of the event.
The unparalleled development that has not only put Budapest on the culinary map but also propelled it to the forefront of the Central Eastern Europe region in recent years is the fruit of the dedication and ambition of every member of the local chef community. Hungary is the only country in the region to boast five Michelin-starred restaurants, and Hungarian competitors have made it to the world finals of the Bocuse d'Or in Lyon, France, twice in a row, achieving excellent results. By winning the right to host the European Selection on 10-11 May, modern Hungarian hospitality has reached an historic milestone that has been recognised not only by the hospitality industry, but also the city and government organisations. This has inspired all those involved to combine their efforts to explore the full potential of the event as a platform for Hungary to show the world its talent not only in gastronomy, but also in closely related areas. Thanks to these endeavours, the official products being used in the European competition (young red deer and the sturgeon with its caviar) are all of Hungarian origin, a first in the history of the competition. The selection of wines to be presented to the jury will also be exclusively Hungarian. A further new feature of the competition is that members of the public with a passion for gastronomy will also be able to purchase tickets, allowing them to rub shoulders with the culinary elite and root for the best chefs from 20 countries. The event will also be an opportunity for up-and-coming members of the Hungarian gastronomy community to witness, and draw huge inspiration from Europe's best chefs. The organisers have also created a free mobile application for those who wish to follow the Bocuse d'Or European Selection. The app allows users to quickly and easily learn about the best local restaurants, discover other events taking place in Budapest during the competition and follow the final via live updates.
Registration and tickets: http://sirha-budapest.com/en/registration-and-tickets