Balatonfüred BOAT SHOW
May 14th, 2017
The first Balatonfüred Boat Show – the brand new summer opening boat and water sports event closed its gate with high success. 40 exhibitors showcased dozens of boats and shipping equipment for more than 1,500 visitors at Balatonfüred Shipyard Marina.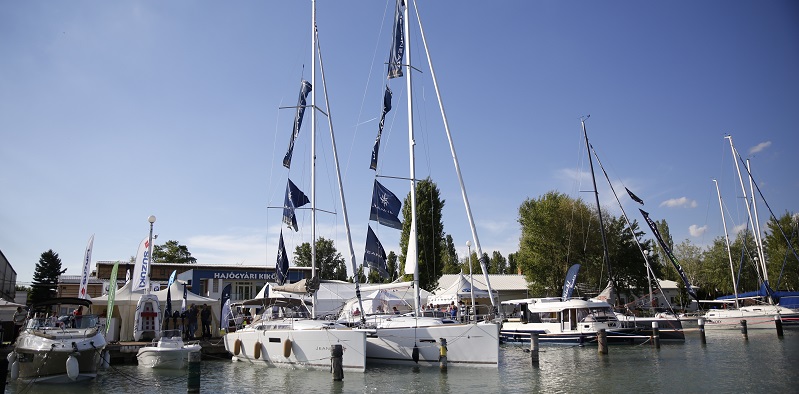 Hungexpo, the organizer of Hungary's largest land-locked harbour, the Budapest Boat Show has been planning for years to organize this great exhibition "on the water", and that is how Balatonfüred Boat Show was created. The event was organized for the first time in this year between 12-14 May at Balatonfüred Shipyard Marina.
At Balatonfüred Boat Show 25 sailing and electric boat awaited visitors, with brands such as Jeanneau, Passion Line, Stickl, GreenCruzer, Schäfer Yacht, Scholtz 8.8, Balaton, First Yacht, Trentasette, Luka 30, Suncamper 30, Manta 16, E-mission yacht or Speedster 40. Visitors could also take trial trips during the three days on the exhibited yachts. Beside the new boats, visitors had the opportunity to buy privately owned boats in the framework of Used Boat Fair.
Numerous programs and attractions were organized at the exhibition, among these the most successful was Zoltán Gögh's flyboard show. Hundreds were following his performance from the shore. Yoga also got a great emphasis: the mattresses were full all three days, and thanks to SUP yoga also a water show awaited the visitors.
The exhibition provided possibility to test the latest generation of water bikes too, while the Shipyard Museum showcased the history of shipbuilding industry from 1881 until today on the second floor of the Sailing Centre.
In parallel with the exhibition, the Balaton Season Opening Regatta was organized, which started from Balatonfüred on 13 May. The fastest participants of the race, the catamarans, were also anchored at Balatonfüred Boat Show.
Organizers paid special attention to the sailors, using the harbour services was free during the opening time of the event for those, who arrived by boat to the event.
The strategic partners of the Balatonfüred Boat Show are Hungarian Yachting Association, Lake Balaton Boating Ltd. and Balatonfüred Shipyard Ltd.
For more information please contact Péter Kövesdi at sajto1@hungexpo.hu